Picnic wine pairing made easy
Have you heard the news? Picnic season is just around the corner, which calls for some good old snack-time with the perfect wine! With the easing of UK Covid-19 restrictions expected next month, we've scrambled to get ourselves ready for some fun in the sun (safely, of course!) with this quick guide to picnic snacks and wine pairing.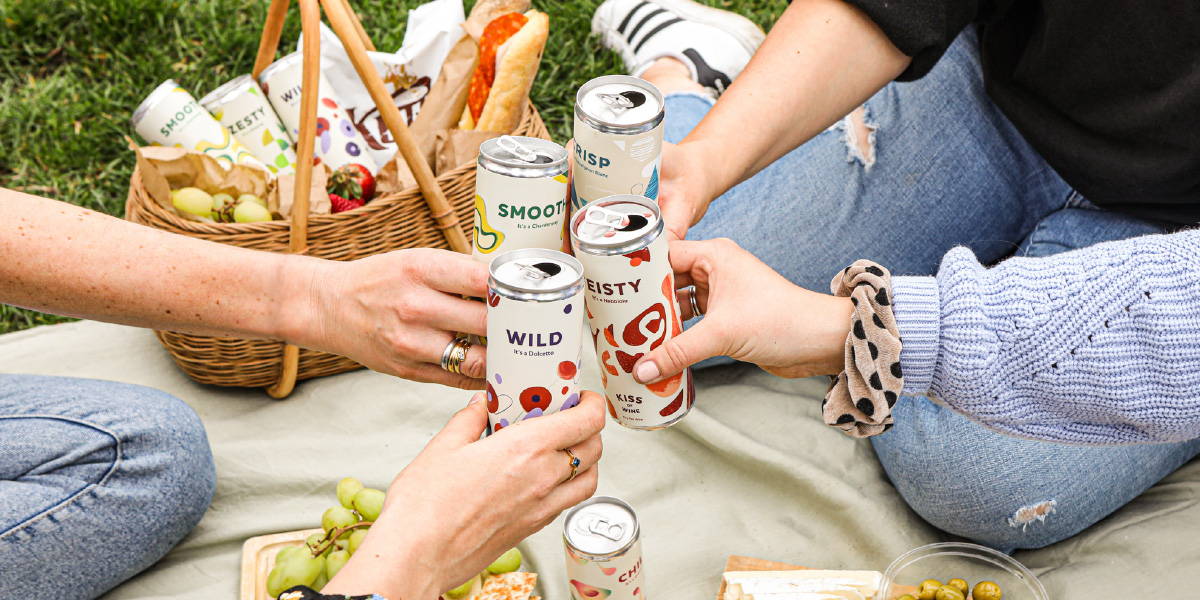 Light, refreshing, and well-balanced wines are your friend when selecting wine for your next picnic. They're the easiest to pair with snack foods and let it be known, the whole Kiss of Wine range is food-friendly. Our Sauvignon Blanc, Riesling, and Rose selections are conveniently canned in single-servings and will perfectly complement almost any snack plate with total ease. The Kiss of Wine Dolcetto and Chardonnay also er on the lighter side of things, so they will also work well outside in the sunshine.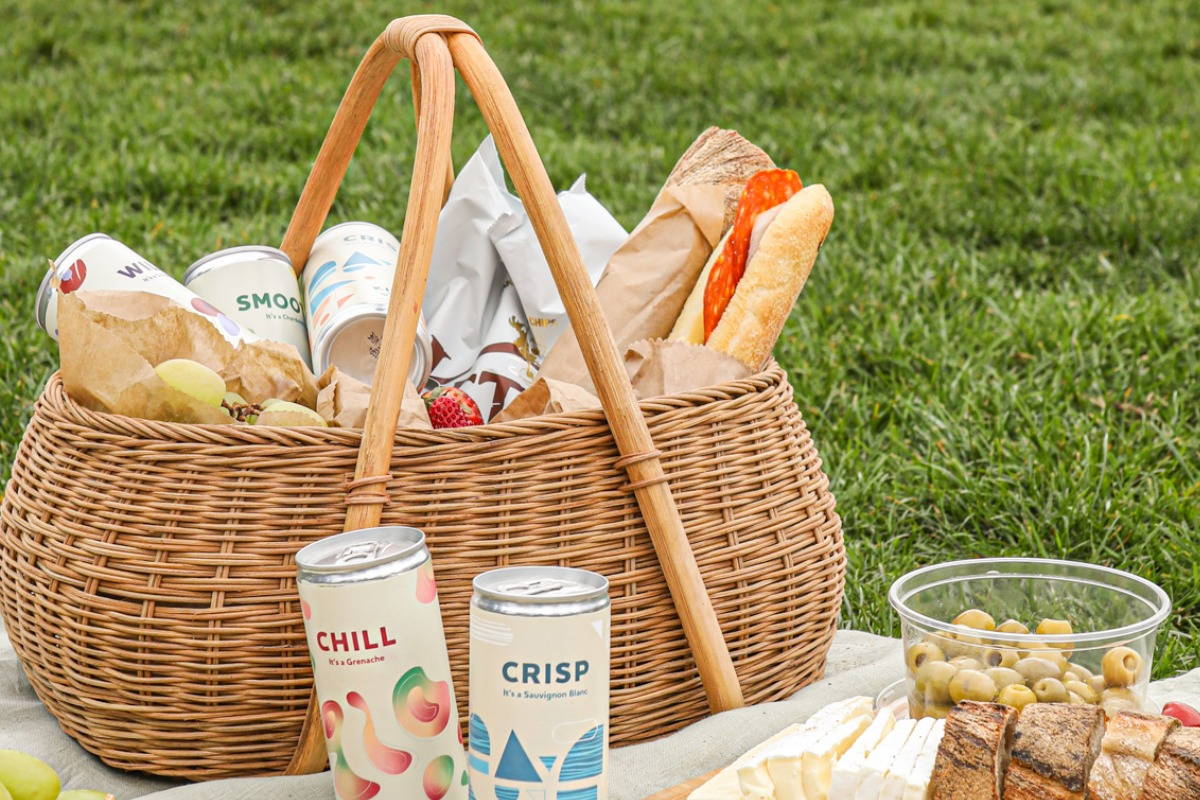 So, before we start on the ideal food to compliment your wines, here's what you need to bring to really elevate the picnic. Firstly, glasses (or reusable plastic cups, if you're worried about breakage) are important to fully enjoy the wine. Obviously you can just drink straight from the can, but we do recommend decanting the wine as it removes unpleasant aromas and allows the flavours to reach their full potential. Also, a picnic blanket and basket are pretty essential to achieve your ultimate wine picnic. Additionally, you could consider bringing a wooden cutting board to serve the food but also for somewhere to prepare it, and napkins may be handy to prevent crumbs and mess going everywhere, or to mop up any spillages…
Now for food… keep it simple and try not to bring too much that needs chilling or won't handle being in the sun for too long.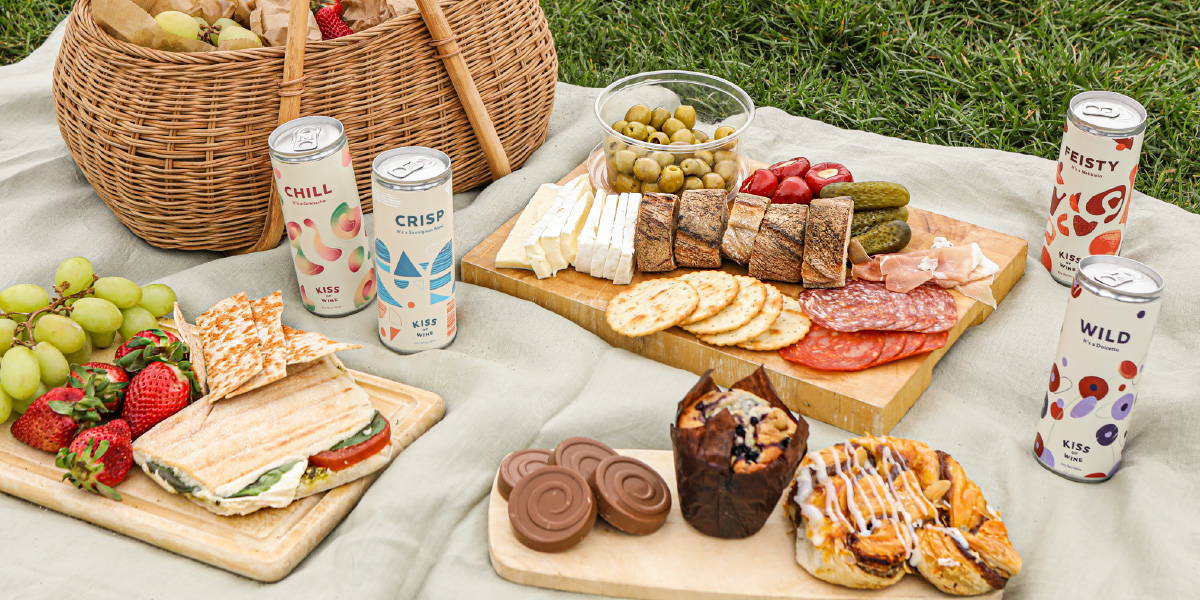 Every good picnic spread needs its vessel. Bread or crackers? For wine, if you keep it light, it doesn't really matter and, if you're anything like us, the fun is in the toppings. Like many food pairing items, the lighter the wine, the lighter the bread should be.
If you're going for sweet or sparkly, like our Chill Rose or Sparkling Rose, then a brioche base can be really nice.
Since the Kiss of Wine range is quite light (and therefore fantastic for picnics!), we'd suggest baguettes or crackers, but it's really up to you.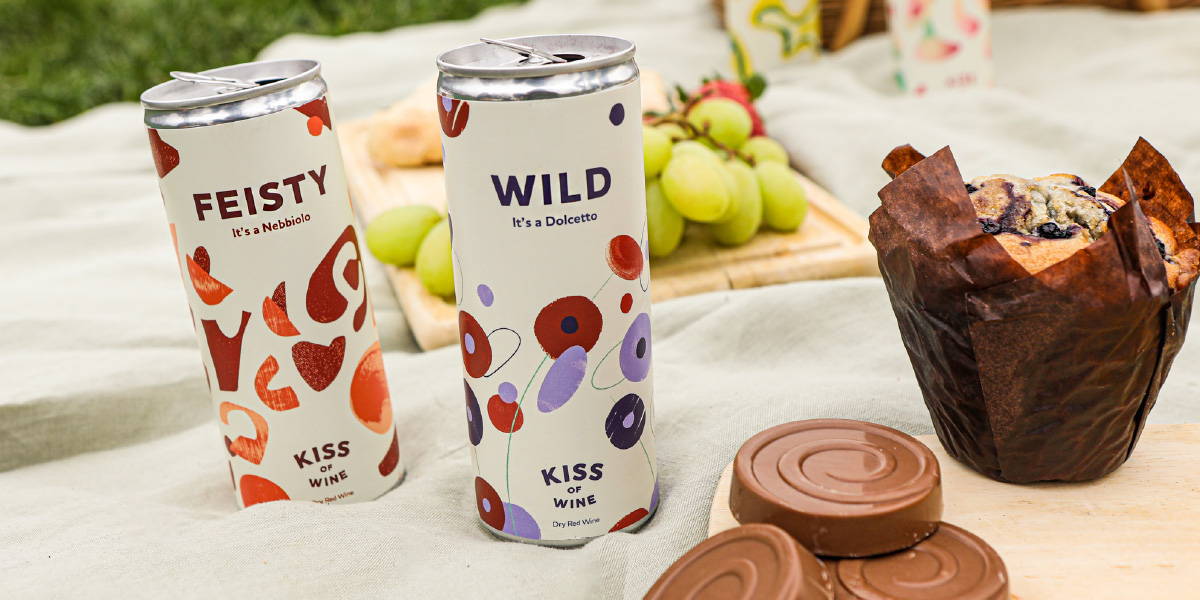 Fruit. Perhaps not always what people first think of when packing a picnic basket for wine pairing, but it should definitely make the cut. Berries, melon, peaches, and grapes are a great go-to when deciding what to pair with light, fresh and acidic wines.
The floral bouquet of our Smooth Chardonnay, in particular, will go well with light berries such as strawberries. The same goes for Rose – both still and sparkling options.
Other popular sweet items for the basket include jams and chocolate. Chocolate will pair especially well with red wine, particularly our Wild Dolcetto. Heavier wines with heavier sweets are particularly nice for chilly afternoons.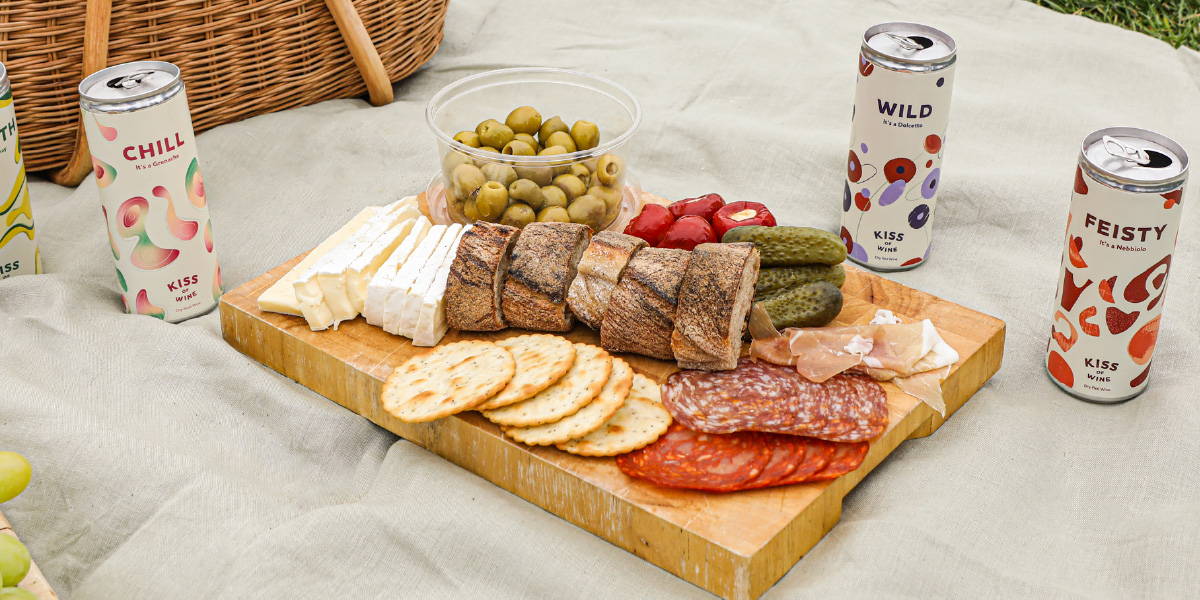 Now for the fun part! Cheese, cheese, and cheese, please!? Okay, so picnics aren't all about cheese, but they play a pretty big part so let's start there. Since it's an outdoor thing, don't go overboard. Two types are plenty, so try first deciding between soft, hard, white, and blue cheeses.
Bit of a softy? Go with Camembert or Brie. They go excellently with a Rose or something sparkly, of, better yet, have them with both, with our sparkling Chill Rose! Most white wines are good with these picnic favourites, though, so Chardonnay and Sauvignon Blanc will also work.
Chardonnays and Sauvignon Blancs are also suited to light hard cheeses, with cheddar being an excellent go-to. On the other hand, our Zesty Riesling is on the dry side of things and is really well suited to white cheeses such as goats cheese.
Stilton, a local favourite, is a hard cheese and will pair well with your red varieties. You can get the best out of your red or full-bodied wines with stronger cheese.
Round out your savoury items with olives, sun-dried tomatoes, artichokes, gherkins, or roasted peppers. Some people even go all out and bring a selection of cold meats. Prosciutto, hard cured meats, and pate are fantastic meaty additions. Light red wine and most white varieties will work with this selection of saviours snacks. It's also worth mentioning if you like things on the spicy side, our Reisling is great for delicately spices snacks – give it a try!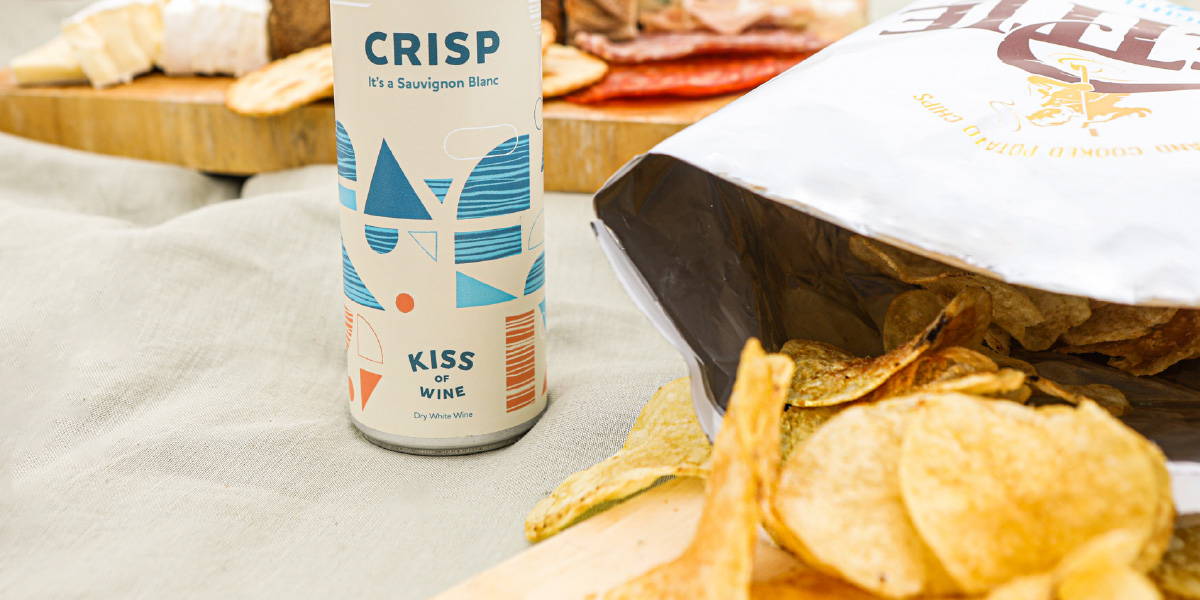 Not to be confused with savoury, the last component of this springs summer picnic includes things like nuts and a simple yet classic favourite, crisps! Salt and Vinegar crisps combine salt and acidity, and you can't go wrong with a crisp Sauvignon Blanc. This classic all-rounder will balance the flavours nicely. Most other light white varieties will also work.
What better way to enjoy safe socialising this Spring than to grab your favourite wine and snacks? If you haven't already heard, we've got your back here at Kiss of Wine because canned wine is perfect for picnics. Get up to speed here to find out all the convenient and environmentally friendly ways that canned wine is better.